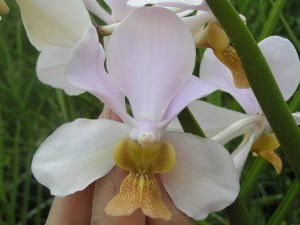 The Ascocenda Anglo-Chinese School (Ascocenda Kwa Geok Choo x Vanda Poepoe), registered 18th June 2002 and hybridized by the Singapore Botanical Gardens for the Methodist School Foundation. This hybrid has significantly more Vanda genes than Ascocentrum and thus thrives well in hot and xerophytic conditions. Under hot sun, its petals will produce a beautiful pinkish tint, as seen in the picture on the left, and when brought indoors, the petals tend to turn milky white in appearance. This hybrid grows well under full sunlight.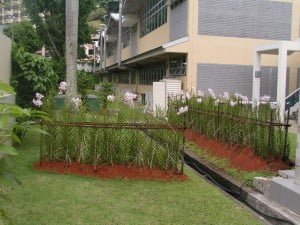 For individuals who are interested in purchasing the plants, kindly contact your methodist school representatives for more information. As we prefer to deliver flowering orchid plants, due to the recent high volume orders, you may have to wait for a few weeks before flowering plants are available again so please be patient as this beautiful orchid is worth waiting for. 🙂
For schools/organizations that are interested having orchidscapes within your premises like the one shown on the right, kindly contact Mr Quek CT for more information.
Summary


Plant: Healthy with slender alternating leaves
Growing Conditions: Grows well in full sunlight
Flower: Milky white to pinkish tint, moderately free flowering
Feeding: EZ-Gro NPK 13.5%:27.0%:27.0%, twice a week
Skill level: Intermediate
Ascocenda ACS Orchid Care
When you receive your Ascocenda ACS, find a plot in your garden thats bright and sunny and preferably near some fencing so that the orchid can grasp the fences with its aerial roots for support as it grows. This hybrid loves sunlight, if your garden is shady, find a site where the plant can receive at least half a day of sunlight or more.  
For those of you out there wondering what orchid have for breakfast and dinner. Orchids, like some of us, are very picky eaters. Orchid prefers high quality fertilizers, called foliar, in order to produce remarkable flowers. Orchids can be fed by leaves and by roots but roots feeding is much more effective. Most orchids are either C4 or CAM plants, it is most effective to feed them in the early morning or in the late evening (orchid usually doesn't eat during lunch time). Foliar application is most effective when used at low concentration and high frequency, i.e. feeding the plants at 200ppm twice a week is more effective than feeding it at 500ppm once per week. For foliar, we recommend using Ezi-Gro NPK 13.5% : 27.0% : 27.0% to promote flowering. For household application, use half a teaspoon (2.5 grams) to one teaspoon (5.0 grams) to a litre of water and apply twice a week to potting media. Though not required, leaves and aerial roots can be misted once a week with foliar to promote healthy growth.
There are also a few other things that should be taken note of :
Never water your orchid plant in the hot afternoons as the cold splashes of water in the hot afternoons may send the plant into a shock and stun growth.
Never overwater your orchid plant, make sure that your potting media has good drainage and keep lower portions out of waterlogged conditions.
If you've been placing your orchids indoors for a long period of time, do not re-introduce it directly to full sunlight as the plant might get a heatshock due to the sudden change in temperature range and lighting, resulting in yellowing of leaves.