Archive for Aranda
You are browsing the archives ofAranda Archives | Toh Garden: Singapore Orchid Plant & Flower Grower.
Looking for orchid and plant arrangements to brighten up someone's day? Looking for a housewarming gift? Check out our new range of orchid and plant arrangements for order! =)
(Aranda Christine x Vanda Doctor Anek) This hybrid, originating from Chao Praya Orchid nursery in thailand was registered by Teo Peng Seng on the 29th January, 2002. Aranda Woleco is usually sought after as display plants due to its distinctively large flowers.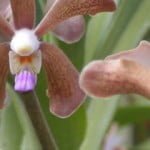 (Aranda Lucy Laycock x Vanda tesellata) This hybrid was registered by Yeoh Bok Choon on 1st January, 1966. Aranda Peng-Lee Yeoh has a distinct vanilla fragrant that children frequently recognize this flower to be 'chocolate orchid'.