Dear All,
Holiday Seasons is around the corner and we are getting excited! Introducing one of our festivals here in Singapore, Deepavali! The season of lights, hope and smiles!
Deepavali or Diwali is the Hindu festival of lights celebrated every year in autumn! One of the major festivals of Hinduism, it spiritually signifies the victory of light over dark, good over evil, knowledge over ignorance, and hope over despair. Celebration includes millions of lights shining on rooftops, outdoors and windows, around temples and buildings in communities and countries holding the celebration. Festival preparations and rituals usually extends over a five-day period. In the Gregorian calendar, Diwali night falls between mid-October and mid-November. End of the short introduction and thereby Wishing everyone a Happy Deepavali!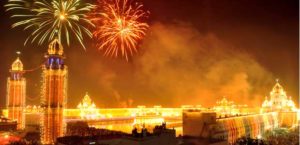 This year's Diwali, TOH GARDEN gladly brought to you our Diwali Special Promotion!
Introducing a Hearty pot of Fresh White Dendrobiums @ 25% off! This season's best orchids to light up your home!
For all of you who loves White Orchids, you are in for a treat!! Luxurious fully blooming white orchids! Feel free to visit our nursery any day of the week! A window glimpse of our nursery can be found below;
Promotion ends 15th November! Coupon Code: DIWALI2016

Signing off,
Warmest wishes
Stardust