Chinese New Year plants & orchids are being prepped for order this year. A wide selection of curated Singapore plants and orchids found in our farm are available on our newly revamped online shop this Chinese New Year! Categories and genus in drop-down menus now sort our plants and flowers for a better shopping experience.
We are giving out discount coupons of up to 10% this CNY! Please drop by our new online shop and give the Golden Wheel of Fortune a quick spin to obtain a discount on your Chinese New Year Plants & Orchids here @ https://www.tohgarden.com/shop/
UPDATES: Our orchid farm will be open till 6.00 pm on 11/02/2021 for visit and will be closed on the 12th and 13th Feb 20210 for Chinese New Year. Deliveries will resume on 14th Feb 2021.  
Chinese New Year Plants
Chinese New Year Plants such as Kumquats & Mandarin Oranges are currently open for preorder. Plants will be available for delivery from mid-January. Kumquats and Mandarin Oranges will be available as usual.
Other Chinese New Year Plants brought in this year includes Asparagus Fern, Begonia, Buddha Belly Bamboo, Caladiums, Chrysanthemums, Draceana adamsonii, Ficus lyrata, Guzmania, Marantha leuconeura, Nepenthes, Pachira aquatica, Pussy Willows, Radermachera hainanensis and more.
We will also be preparing tabletop arrangements with this Chinese New Year with Pussy Willows & Orchids closer to the festive.
Chinese New Year Orchids
Dendrobium Orchids are one of the hottest selling Chinese New Year orchids for our farm. These locally produced orchids can be selected fresh from the farm. Dendrobium orchids are generally inexpensive and last perfectly well through the Chinese New Year. Dendrobium Orchids can be quickly grown to bloom again with proper care in Singapore's climate. You can find Dendrobium Mix Pots & Arrangements here; https://www.tohgarden.com/dendrobiumarrangements.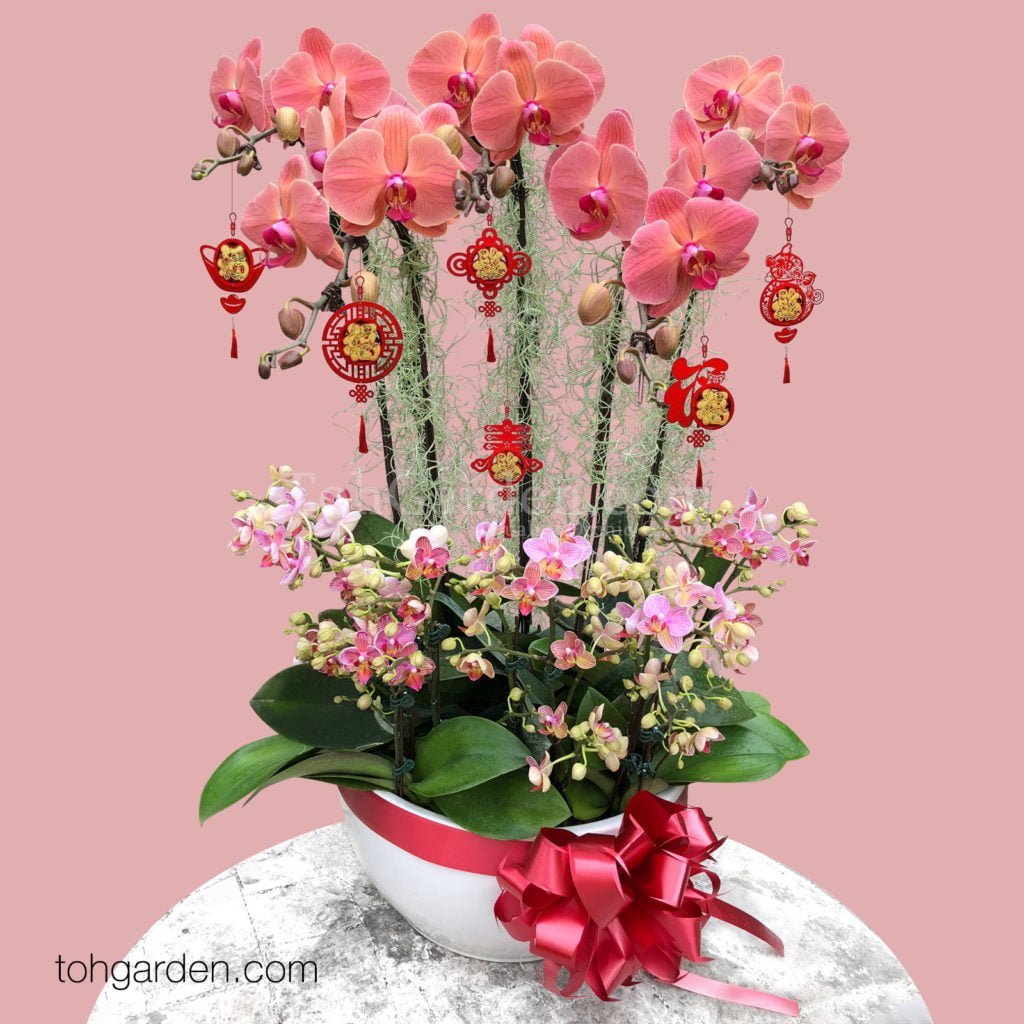 Phalaenopsis Orchid is another popular hot selling Chinese New Year Orchids during the festive. Most Phalaenopsis orchids available in Singapore are imported from Taiwan and housed here for sales. Phalaenopsis orchids last well indoors and even better in an airconditioned environment. Phalaenopsis orchids can be grown locally after the initial bloom, albeit they require three to four months of cooling at night to bloom again. Tropical fragrant Phalaenopsis orchids have smaller flowers and don't need this cooling at night. You can find Phalaenopsis arrangements here https://tohgarden.com/phalaenopsisarrangements.
Commercial Vanda orchids are known for their large beautiful flowers. Some Vanda hybrids have to be grown under shade, whilst others are in full sun on the farm. In general, Vanda orchids with large strap leaves (flat leaves with a large surface area) are grown under shade. On the other hand, Vanda orchids with spiny leaves and narrow leaves are grown under full sun. Most Vanda orchids produced locally and flowers often in Singapore's weather. Vandaceous arrangements can be found here. https://tohgarden.com/vandaceousarrangements.
Oncidium orchids are found both in the tropical and cool climate. Oncidiums are commonly known as the dancing lady orchids as the orchid blooms have the shape of a lady in a dancing gown swaying in the breeze. Oncidium arrangements can be found here https://tohgarden.com/oncidiumarrangements for your selection.
Cattleya orchids are also one of the favourites of many due to its spectacular large blooms. Most Cattleya orchids generally only last between 2-3 weeks for blooming time. Many Cattleya orchids with large blooms have fragrance and require cooling similar to Phalaenopsis to bloom. Cattleya hybrids with smaller flowers can usually bloom all year round in Singapore.
Tips on picking up your Orchids
A little tip when picking up your orchids. The best time to purchase orchids is around 2-4 weeks before the Chinese New Year's arrival, depending on blooms' maturity. Cool orchid species like Cattleya, Cymbidiums, Nobile Dendrobiums & Phalaenopsis tend to bloom faster in hot temperatures than tropical varieties like Dendrobiums. So do place them somewhere cool if you wish for them to bloom slower. With proper care and monitoring, the orchids will reach close to perfect bloom towards the festive.