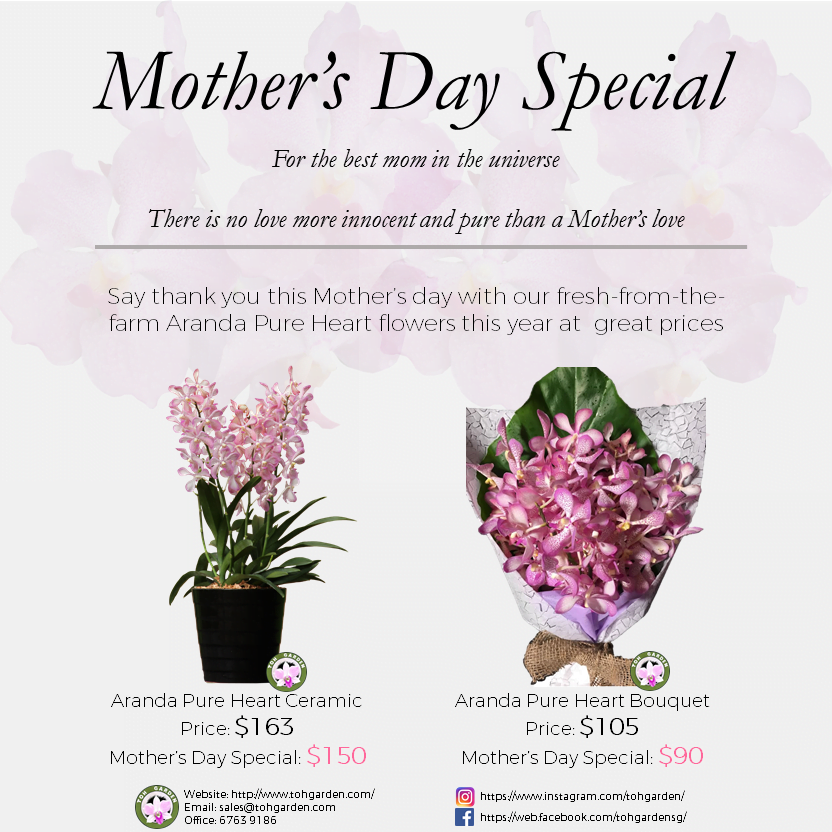 Mother's Day Orchid Special! We are doing something a little special this Mother's Day: Special prices for our Aranda Pure Heart Mother's Day Orchid Special, the perfect gift for the best mother in the universe.
As an old indian saying goes: "A mother is more glorious than heaven's angels". Indeed, a mother's love is in itself unconditional, innocent, and pure, and the immense amount of sacrifice she makes for her children are so often noble. Yet, her role is more often than not a thankless one. She deserves more, and she definitely deserves your appreciation too this Mother's day.
About the Aranda Pure Heart:
The Aranda Pure Heart was bred from Arachnis Maggie Oei 'yellow ribbon' seed parent – an old heritage orchid, the first SG hybrid raised for commercial cut flowers. The Arachnis Maggie Oei ' yellow ribbon' was first named for the mistress of John Laycock, the founder of one of the earliest law firms in Singapore, Laycock and Ong. It was in this firm that the man who would subsequently become Singapore's first Prime Minister, Lee Kuan Yew, began his career as a lawyer in 1949 after graduating from Cambridge. The other parent of the Aranda Pure heart is Vanda Kwa Geok Choo, better known as Mrs LKY, wife of the founding father of Singapore. It took over four years to finally get the first blooms of the Aranda Pure Heart, making this batch of Aranda Pure Heart flowers the first of its kind to be blooming in the world.
There are two variants of the Aranda Pure Heart, namely the Aranda Pure Heart "Pink Diamond", and the Aranda Pure Heart "Golden Celebration". The "Pink Diamond" variant features accents of pink and white, with pink spots on the flower, while the "Golden Celebration" boasts a vibrant golden base color in its petals instead of a white base color that is characteristic of the "Pink Diamond" variant.
At Toh Garden, our Aranda Pure Heart Mother's Day Orchid plants are handpicked and delivered fresh from the farm and straight to your hands. This means that you can be ensured that the best quality flowers will be presented to your mother and loved ones. If pink/yellow isn't your cup of tea, you may also like to head to our gift shop or instagram at https://www.instagram.com/tohgarden/ to browse some of our best orchid plants. There is a host of colors and a huge selection of variety available. All plants are available for sale till they are sold out, with an option for repotting with ceramic/other pots.
Shoot us an email at [email protected] for further enquiries or to place your order today! Promotion ends 23 59, 14 May 2017.