Singapore will be hosting the 20th World Orchid Conference from the 13th to 20th November 2011. Singapore is hosting this event for the second time, with the first happening in October, 1963, almost 5 decades ago. The conference will be taking place at Marina Bay Sands, the newly built integrated resort added to Singapore's entertainment sector early this year.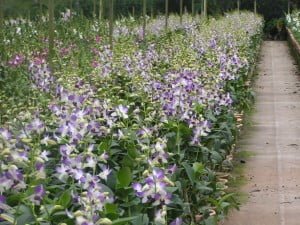 For those who are interested in visiting our booth, our booth D112 is situated close to the organizer's booth as well as the exit.
For oversea visitors/ growers/ breeders who are interested in visiting our nursery to learn more about how commercial cut orchids/plants are produced in Singapore, kindly contact us early before the show (before 31st Oct 2011)  so that we can make arrangements to bring you around our nursery.
With the WOC being hosted in Singapore this year, we took the opportunity to introduce a little on Singapore's national flower the Vanda Miss Joaquim, an orchid, her legacy as well as new products that are starting to flower in our nursery and yet to be added to our online shop.
For those who are not in our mailing list, you may download our March 2011 newsletter here.
Also, if you are tropical orchid nursery grower coming to Singapore for this 20th WOC, kindly contact us if you have products that you would like to offer to us. We are interested in lowland, tropical orchids and will purchase some suitable flasks or plants from you during your visit this November.