This April, we celebrate the 125th anniversary of the creation of the Papilionanthe (Vanda) Miss Joaquim (VMJ), Singapore's national flower and Toh Garden had the privilege and pleasure of meeting and serving Mdm Linda Locke, who is the great-grandniece of Agnes Joaquim!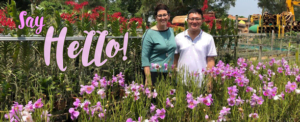 Mdm Locke visited the farm to purchase a pot of Vanda teres and the original VMJ to show and tell at the launch of her very first children's book, Agnes and Her Amazing Orchid – a personal family story of how one woman's ingenuity and determination created a flower that became world famous, and Singapore's National Flower in 1981.
VMJ is the progeny of the beautiful Papilionanthe (Vanda) teres and the Papilionanthe (Vanda) hookeriana, making Singapore the only country to have a hybrid as her national flower.
While the original VMJ only flowers floriferously after reaching a height of about a meter, we've created and artificially selected for hybrids that flower at a more manageable height.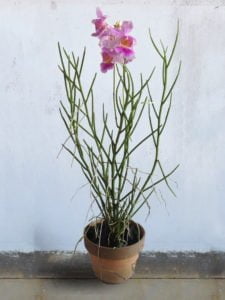 We wish Mdm Locke all the best in her new book! Her booksharing session is free to the public and is being held at the Green Pavilion at the Singapore Botanic Gardens 10.30am this Saturday, 7 April 2018. Pre-registration is required so sign up here!