Toh Garden wishes all family and friends a Happy Lunar New Year. We will be close from 16 – 17 Feb 2018. Flowers will bloom as usual but business will resume on 18 Feb 2018. 😛
Toh Garden wishes you a most Prosperous and Blessed Lunar New Year. In appreciation of your continued support and trust in us, we are hosting a Lucky Draw with very attractive prizes to be won. The hosted Appreciation Lucky Draw is a sure-win, and will last only 15 days for this 2018 festive season. We would like to also extend the Appreciation Lucky Draw to friends & family of our valued customers to share the festive joy!
Draw Results!
Chinese New Year 2018 plant sales will be starting next week! Shipments of temperate/subtropical orchids and other ornamental plants from northern farms have started making their way to Singapore since the week before. This year we've brought in a wide range of floral and fauna from China, Thailand, Taiwan, Korea and Vietnam to complement our homegrown tropical orchids.
Aside from traditional Mandarin Orange, we have other citrus like Citrus medica (Buddha Palm fruit tree) and the common lemon plant. Seasonal Cymbidiums and Brassicas, Japanese Camellias (Tea Flowers/Tea Roses), Rhododendrums (Azaleas) in striking red, Bromeliads (Neoregelia, Guzmania) Succulents and many other tabletop ornamental plants are available too! Follow us on Instagram for more daily updates! =)
Cymbidium hybrids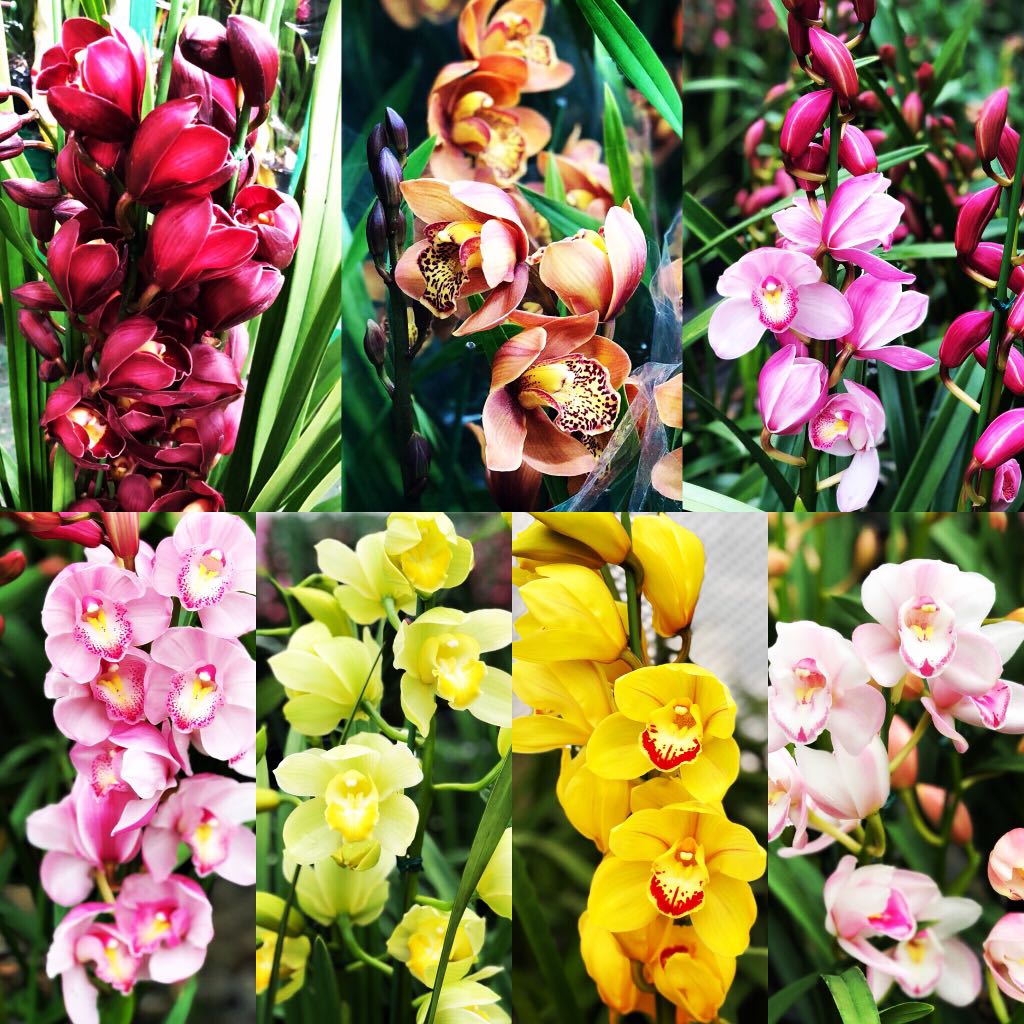 Our Cymbidiums are sourced from the highest quality farming partners (A and A+). Each orchid plant comes with at least 3 stems of blooms with rich vibrant colours! Under room temperature conditions, keep it away from heat and strong sun and the blooms will last you about a month. However, when kept under cool room conditions, blooms can last up to 3 months! Perfect and ideal for air-conditioned and cool indoor environment. An exotic and stylist gift to present as a door gift during Chinese New Year! Corporate deliveries available.
Homegrown Orchids
Amidst the blast of cool weather from La Niña effect right before Chinese New Year, a wide selection of orchids has come into bloom this year in our local farm! A good selection of which are fragrant orchids! You'll be spoiled for choice when it comes to our local homegrown 😉
If you are encumbered by a busy schedule this festive, can't drop by to select your orchids or if you are outstation and away from Singapore, we have a hassle free package for you. We will select the best orchids in bloom for you from our nursery and at the same time, throw in some bonus with delivery for our mix and match orchid package. We promise only the best selection of fresh blooming orchids picked by our experience nursery staff and have them delivered right to the doorsteps of you or family and friends!
Mandarin Oranges (Citrus)
Our Mandarin Oranges comes in different shapes and sizes. Looking for a round form? A basket of gold oranges? We have a good selection here for you. Height of plants range from 1ft to 8ft tall (0.3m to 2.5m).
Camelia Plants
Are you a fan of Camellias? Camellia plants are available in red, pink and light pink. Grafted plants with a mix of the three colours are available too!
Other Ornamental Plants