Gardens by the Bay is the largest garden project in Singapore with funding of more than SGD$1 billion. Marked from far by the 18 iconic supertrees and two climate controlled conservatories, the Gardens consist of different themed Gardens congregated together along the waterfront of Marina Bay. The Gardens was open for previewing during the 20th World Orchid Conference.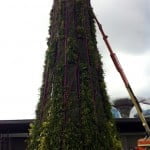 The 18 man-made supertrees were specially designed to mimic functions of natural trees for absorption of solar energy, rainwater as well as for gaseous exchange. Supertrees fitted with photo-voltaic cells soak up and convert solar energy to electrical energy for various purposes like lighting. Rainwater collected by the supertrees are channeled to irrigation units and fountains within the Gardens for self sustenance. The supertrees also serves to provide shade for the Gardens and are paired with the conservatories for gaseous exchanges.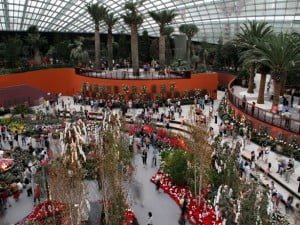 There are two climate controlled conservatories of which the Flower dome was open for preview during the 20th WOC. The Flower Dome consist of a cool and dry Mediterranean climate while the Cloud Forest consisted of a cool and wet climate to simulate mountain top climate, both which are built with environmentally sustainable technologies.
The Gardens by the Bay is currently closed for further enhancement, if you've missed visiting the Garden by the Bay this year due to your busy schedule, do not fret, the Gardens by the Bay will be open again next June 2012. For more information on Gardens by the Bay, kindly visit their website here.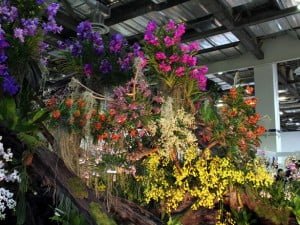 This year's WOC was a great experiential exchange between growers, traders and hobbyists alike from different countries, with many catering their wares and merchandises in the marketplace.
The award winning orchid displays were magnificent! (e.g. For the display from Thailand, there's a waterfall created in the midst of driftwood beautifully carved by nature and filled with many types of orchids).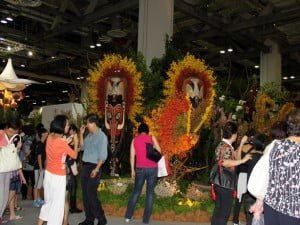 The floral arrangements competition by school children were also very impressive. The arrangement that won the first in that category, made up of various musical clefs and notes particularly caught my eye. The child who came up with that design is definitely talented but alas we didn't manage to capture a picture of that arrangement.
We would like to thank everyone who've traveled to Singapore and visited our local commercial nursery, its been our pleasure to meet up and exchange knowledge with you. It was particularly interesting to learn especially from orchid growers who came from afar. =)
This entry was backdated.