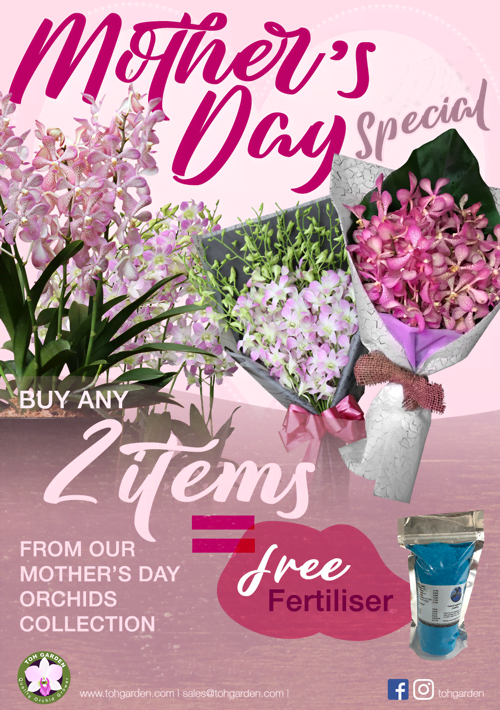 Wishing all a Happy Mother's Day! Mother's Day is the moment to show gratitude to the important woman in your life, be it your mother, spouse, mother-in-law, aunts, stepmom, godmother and grandmother. If you are combing the web trying to find the ideal gift, we would like to recommend getting her some plants and flowers to keep her happy and busy at home for the circuit breaker period! =)
[UPDATES: 10/05/2020]
Thank you for your support. Delivery slots are full for 10/05/2020. We will try to slot in more delivery slots where possible for night deliveries but tentatively, new orders will be delivered on 11/05/2020 on unless confirmed by email. Thank you.
Here are some of our recommendations for Mother's Day this year.
However, please do not let our recommendations cloud your choice of flower or colours for the meaningful lady in your life. Ultimately, only you know your love ones best, and no matter what you get for her, she will love it, especially when it was chosen meticulously by you.
Psst… We do offer custom arrangements as well! (E.g. To customize a Phalaenopsis arrangement, just drop by here https://tohgarden.com/phalaenopsis-arrangements) to select from the wide range of colours. For more specific or special customization, feel free to drop us a chat on the bottom right. Our staff will do their best to produce designs from your selection of flowers.
If your Mum love baking, or if you are thinking of baking some cookies, cakes or dessert for her, consider some exotic Vanilla tahitensis beans as add-ons too! Natural vanilla has a very smooth fragrance when compared to the artificial extracts! Definitely a unique and yet practical gift during this period of time.
Fragrant orchids seem to be a popular choice this Mother's Day. We produce various kinds of fragrant orchids in small quantities. Our staff will select 3 random fragrant orchids that are in perfect bloom on our farm today when you place this order. 🙂
To all Mothers out there, have a safe and Happy Mother's Day and look on the bright side! All of us get to spend more time family time with families during this period of time. Spouses getting more time to cook and spend time with one another, parents being able to spend more time with their children, or just me and myself having time away from the usual hectic schedule.
Remember to practice safe distancing and keep yourself healthy during this period of time.
Take care everyone! 🙂