The Singapore Garden Festival is fast approaching on the 15th of July. Setups have already begun for a few days now with heavy hardscapes making the initial entry whilst the softscapes coming in batches. Vendors and designers are also promptly preparing.
Here's a glimpse of the entrance of the 4th floor's orchid show still at work :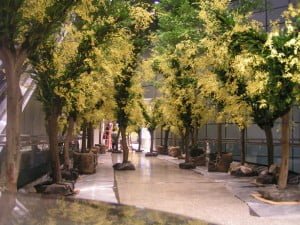 Be dazzled by these Oncidium trees along the aisle leading to the main site of the orchid show. The trees look like a mass of gold from afar and when passing beneath them, there's some resemblance to cherry blossom trees during their seasons but with yellow blossoms instead of pink ones.
(The Oncidium Golden Shower/Golden Wish, also known as the "Dancing Ladies" in layman term, is one of the major cut orchid exported by Singapore. This hybrid is also commonly used for orchidscapes and displays that augment its characteristicly elegant arching manner of its flowers, in an outward manner, as its flowers matures.)
Another spectacular view that was close to completion yesterday was the stalagmite and stalactite orchidscape fixated and blended into the main entrance just outside the site of orchid show. The ceiling of the entrance and a few other trees that are also covered with a range of different coloured hybrids from the Oncidium Alliance.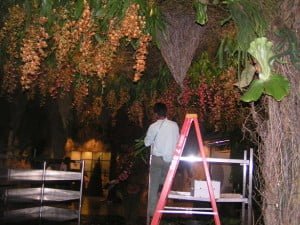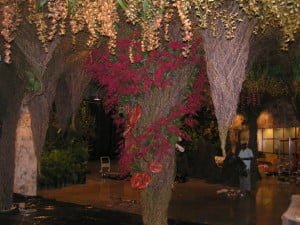 Those who are keen on attending the Garden & Orchid Show, you may grab your tickets at
http://www.singaporegardenfestival.com/ or at the front desk of the showroom at Suntec City Convention Hall. The Garden Show will be on from the 15th to the 22nd of July.
For vendors, traders, growers and societies who are exhibiting/visiting Singapore during this period of time may contact us for a visit to our nursery to learn more about tropical orchids that we grow in Singapore's nurseries. We will be available to bring visiting groups from the 18th of July on.
More pictures updated below just before the start of the show: