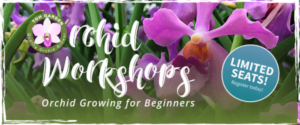 A Date with Vanda Miss Joaquim (11th Aug 2018)
National Day is just around the corner! Take some time off to learn more about our National flower, the 'Vanda' Miss Joaquim. We bring you to an orchid farm where you'll see the 'Vanda' Miss Joaquim orchid plant, followed by a short seminar about the flower itself. Our speaker,
Dr
 Emrys Chew, will shed amazing insights on the history of 'Vanda' Miss Joaquim before it became our National flower.
Vanda Miss Joaquim was a celebrated garden plant and cut flower long before it became a cherished national symbol. How much do you know about this orchid and its storied past?
Dr
Emrys Chew has a keen interest in History and Orchids. He holds a
PhD
in History from the University of Cambridge and is Curator of OSSEA's Heritage Orchid Collection. He is also an OSSEA accredited Judge and a former Editor, Malayan Orchid Review (2008-13). He has written, spoken and given interviews on the history of orchid growing and breeding, and is himself the originator/registrant of 46 orchid hybrids.
Date: 11th Aug 2018
Time: 10:00am – 12:30pm
Venue: Goodwood Florist 9.15am (Transport to the Orchid Farm at Sungei Tengah provided.)
Interested participants, please register here.
====================================================================================
Orchid Growing for Beginners (24th November 2018)
How to avoid "once bitten twice shy" after losing your first orchid. Orchids can be quite easy to grow or rather difficult to kill. Topics like light, temperature, humidity. air circulation, watering, feeding and pest and diseases will be covered.
Great for beginners who have just started growing orchids but have no idea how to go about it.
Orchid Growing 101
Learn about the ideal conditions and best practices to successful orchid growth and propagation. There are hundreds of orchid types and each one has their own way of growing. What potting mix to use, how much water, sun and feed to give? Popular orchids like Dendrobiums, Cattleyas, Vanda and others will be covered.
Not sure what your orchid is? Take a photo to show us!
Orchid Health and Wellbeing
How to tell if that black spot on the leaves is sunburnt or something more sinister? Which bugs are pests and which are helpers? Learn about the pests and diseases that commonly affect our precious orchid plants and how to combat them.
Participants are encouraged to bring their sick orchids (if any) to class or take photos to show the instructor.
Get Ready to Dirty your Hands
Monopodial Vanda and Aranda are quite straightforward to grow and propagate, but what about the tricker sympodial orchids like Dendrobiums and Cattleyas? Where to cut? Should I even cut at all??
Instructor Tommy will guide participants through a hands-on session on how to divide and repot mature sympodial orchids. Every participant will receive a pot of orchids to bring home to grow.
The instructor, Tommy is a veteran orchid grower with over 50 years of experience growing orchids commercially and for his own leisure.
Date: 24th November 2018 (Saturday)
Time: 1:30pm – 3:30pm
Venue: Toh Garden. 11 Lorong Pasu Sungei Tengah Road (Click here for directions.)
Fee: $85.60 (incl. 7% GST; all materials included)
How to pay:
Option 1: Bank transfer. Please send us an email for details.
OR
Option 2: Credit card payment via Paypal here. (You need to be a Paypal user to use this option. Sign up is free and takes only 1 min!)
Please send us a screenshot of the confirmation payment page. or provide your account name, email address and the transaction no.
(Your seat will be confirmed only after payment is received.)