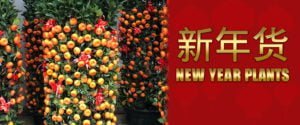 It's time to usher in the New Year with these beautiful plants and orchids! 
여보세요! These High-Quality Cymbidiums from Korea are a delight to look at for any occasion! Grace your living space this New Year with these elegant Boat Orchids! Popular in Asia for their long-lasting flowers, these once a year imported Cymbidiums make spectacular New Year Decor and Corporate Gifts!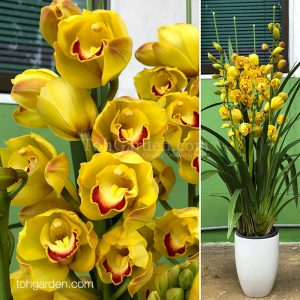 大慧兰 Korean Cymbidium Orchids in Ceramic Pot Now Available! $145
Each plant will have 3 – 4 flower spikes. Plant height around 2 feet tall. Fragrance-free. Flowers can last up to 3 months in air-conditioned environment, 1 month outdoors in our tropical heat.
Grower Note: These plants can grow here but will not re-bloom unless cold treatment is applied.
If you wish to make a bigger cymbidium arrangement in a larger pot, kindly contact us at [email protected].

富贵平安 卡特兰 CNY 2019 Cattleya (Small Flower) $25/plant
Cattleya arrangement in ceramic pot available starting from $38!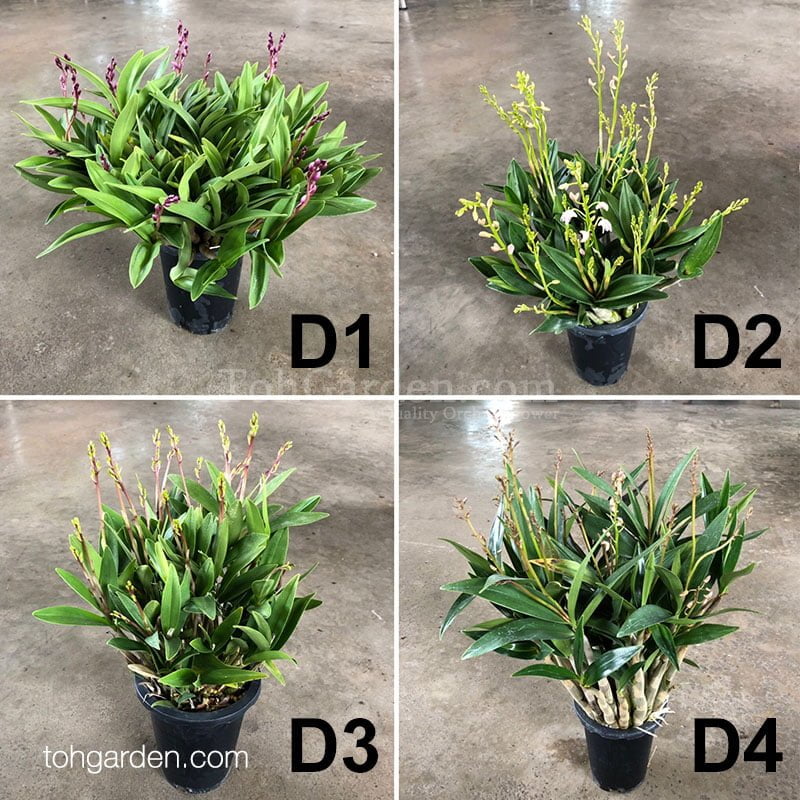 澳大利亚 石斛兰 Special Mention: Australian Dendrobiums / Dendrobium kingianum hybrids $60ea
Limited stock! 4 different hybrids available now! Newly arrived in buds!
Please select your plant below for order:
---
Newly arrived Chinese New Year flowers now available at the nursery at 11 Lorong Pasu! Also available plants are Marigold, Celosia, Daisy, Athurium Red, Chilli, Azlea (Belgium) and Crassula 钱生钱!
---
We have old favourites like the Citrus plants and Pussy Willows in assorted colours.
新年花 / 适合送礼 / 祝贺
珠砂橘 / 朱砂橘 / 四季桔 
Zhu Sha Mandarin Orange Tree / Four Seasons Lime Tree
For 60CM – 90CM Pots, kindly contact us to check for availability before order.
四季桔 Four Seasons Lime Tree 
For 12″ – 18″ Pots, available from 16th Jan 2019.
For 60CM – 90CM Pots, available now.
珠砂橘 Zhu Sha Mandarin Orange Tree
银柳 / 
Pussy Willow
Available now! 
[Last Chance!: We are accepting orders for Red Pussy Willows / Mix Red & White until 25th Jan 2019]
银柳 1.8m Pussy Willow in Ceramic Pot (100 stalks) $188
---
How to pre-order:
Add item to cart.

At the cart (top right corner), agree to terms and conditions and Checkout with 

a credit 

card via Paypal.

We will contact you via email for delivery date arrangements.
For orders below $100 / For bank transfer payment option:
Email us your item and quantity, preferred delivery/collection date to [email protected].
Delivery is available to 1 location: $25
Peak period delivery surcharge of $10.70 is applicable from 21st Jan to 4th Feb 2019.
Free delivery with orders $200 and above.
Self-collection at 11 Lorong Pasu during opening hours. Kindly call 6763 9186 or email to arrange appointment with us before coming down.
No delivery on 5 – 6th Feb 2019. We are closed during Chinese New Year.
---
如意 / 吉祥 / 富贵 石斛兰 2019 Chinese New Year Dendrobium Orchid Mix Pots.
Available now!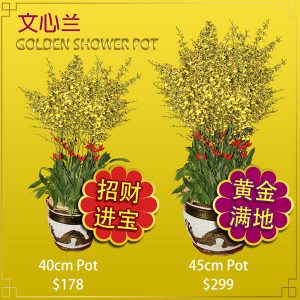 招财进宝 / 黄金满地 文心兰 CNY 2019 Lucky Oncidium Golden Shower Dancing Lady Orchid Pot. Available now!
40cm Pot: approx 8 plants
45cm Pot: approx 15 plants
CNY Special (Orange):
新年好兆头 蝴蝶兰盆 CNY 2019 Phalaenopsis Orchid Special Arrangement in Ceramic Pot. 3 working days pre-order in advance required.
CNY Special (Red):
*Hanging chinese decoration may differ from picture.
More Phalaenopsis arrangements available here.
*Important Note* Kindly hard refresh your browser (CTRL + press refresh button) to view the latest flowers. If you are not certain, please contact us to check flower availability before order.
限量 蝴蝶兰 自创盆 CNY 2019 Seasonal Phalaenopsis Orchid Customized Arrangement.
Customise Your Very Own Phalaenopsis Arrangement and have something special to show your guests this Chinese New Year! Next working day delivery available.
Choose a flower.

Select number of plants to put in a ceramic pot. 1 plant will have at least 1 flower stalk. 1 in 1 refers to 1 plant in 1 pot.

Choose a pot colour and done! Our experienced gardener will skillfully arrange your orchids into a beautiful living showpiece!

For longer lasting blooms, place your pot in a well ventilated spot with indirect sunlight and water once a week.
---
Coming Soon
More seasonal orchids coming soon! Prices and plants will be updated here when they are available for order! Stay tuned!