Redfern Natural History Productions will be organizing 3 orchid expeditions this year between July to September, namely the 16-day Borneo Orchid Expedition, 12-day Orchids of Mount Roraima Expedition and 16-day Orchids of Auyan Tepui and Angel Falls.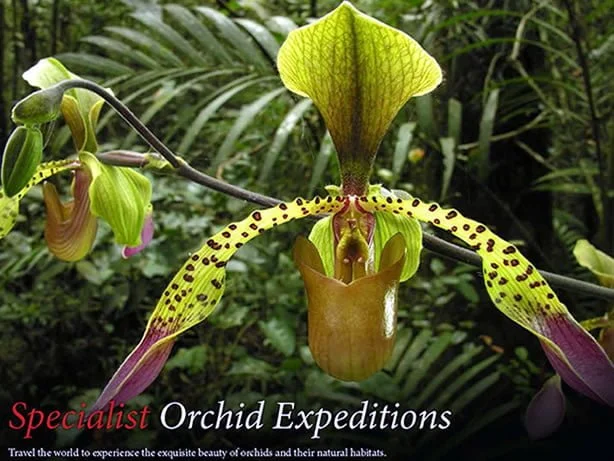 The 16-day Borneo Orchid Expedition involves an action-packed itinerary to four locations to explore Borneo's amazing diversity of orchids. Highlights include exploring four locations to see Paphiopedilum lowii, P. rothschildianum, P. sanderianum and a variety of Bulbophyllum, Calanthe, Coelogyne, Cryptostylis, Cymbidium, Dendrobium, Habenaria, Liparis, Phaius and Stigmatodactylus species. Other sights include a plethora of carnivorous pitcher plants, proboscis monkeys, vast caves, canoe trips through lowland rainforest, and (with luck) open Rafflesia and Amorphophallus blooms.
The 12-day Orchids of Mount Roraima Expedition. Mount Roraima is South America's lost world – a gigantic tableland encircled on all sides by vertical cliffs up to 700 m tall. Towering over the surrounding savannahs and rainforest like an immense fortress above the clouds, Roraima's summit has been isolated for millions of years, and in reality, the mountain truly is home to one of the most striking assemblages of unique animals and plants found anywhere on earth, including one of South America's greatest concentrations of orchids. During the ascent, we pass some of the most spectacular scenery in all of South America to observe orchids of the lowland tropical savannahs, orchids of mossy cloud forest, and orchids of the "lost world" summit of Roraima.
The 16-day Orchids of Auyan Tepui and Angel Falls. At 3200 ft (979 m) tall, Angel Falls is twice the height of the Empire State building and fifteen times the height of Niagara Falls. This, the tallest waterfall in the world, plunges over the sides of a massive plateau called Auyán Tepui that is home to a unique world of orchids. This 16-day expedition takes you on an intrepid canoe trip to the base of Angel Falls, and to the summit of Auyán Tepui to explore the wealth of orchids that Auyán Tepui harbors, set amongst some of the world's most spectacular scenery near the top of the tallest waterfall on earth.
For more information, you may download the itineraries here: 2014 Orchid Expeditions
UPDATE:
For those who require more information, the organizers have provided us with the confirmed timeline for these trips.
Orchids of the Lost World of Mount Roraima (2 trips will be available)
August 7th – August 18th (1st trip)
September 3rd – September 18th (2nd trip)
More Info: Orchids of Mount Roraima Expedition Itinerary
Orchids of Angel Falls and Auyan Tepui (Only 1 trip)
August 20th – September 1st
More Info: Orchids of Angel Falls and Auyan Tepui Expedition Itinerary
Borneo Orchid Expedition (Only 1 trip)
July 28th – August 12th
More Info: Borneo Orchid Expedition Itinerary
On a side note, the heat wave is finally broken by cool showers of rain this week in Singapore. Many of us growers has been using twice the amount of water and manpower to sustain our crops by watering the plants twice daily. With water catchment running almost dry, this was a great relieve. The hot weather reminds me of a brochure that I caught sight of at Hock Hua traditional medicine stall recently. Despite being aware that Dendrobiums are used in Chinese medicine, I wasn't aware that this was so readily available locally until I chance upon it recently, that's pretty cool and thus I'm sharing them here. Images below are copyright of Hock Hua Group.
Herba Dendrobiums which are used as herbal medicine for reducing heatiness with various other functions. Of course this is not the usual Dendrobiums cultivated for display purposes but rather to a small group of Dendrobiums (Dendrobium nobile Lindl, Dendrobium officinale, Dendrobium candidum, Dendrobium huoshanense, and Dendrobium devonianum). So if you are feeling heaty after the dry spell, why not try out some of this Herba Dendrobiums. =)