The Singapore Garden Festival 2014 is upcoming this 16th August. This year's Singapore Garden Festival will be held at Gardens by the Bay and setup has began early August. Exhibitor faces new challenges this year, having to work under the heat of full sun, and with exhibits susceptible to Mother Nature unlike previous years where exhibits were indoor. Its a challenge to source for suitable flora and fauna or positioning them in the right places or risk having them burnt in the heat.
For orchids, most teretes, quarter teretes and semi teretes are able to take full sun without getting burnt. In fact, their flower last very well under full sun and they flower more frequently. Terete orchids are very good landscape plants as have low maintenance and can be top cutted for transplanting once they reach heights that are difficult to maintain.
Foliages such as the variegated Dischidia are a hot favorite this year. Other foliage plants like Tillandsia usneoides, Tillandsia ionantha and other bromeliads are also amongst the favorites this year.
Its been a long hiatus since our last update on our orchids. I thought it would be a good time to update whilst snapping photos for our landscape clients that were reserving our orchids. Orchids in flowering season as well as several new varieties of orchids available this August are as shown below. If you visit the Singapore Garden Festival, you should be able to spot a good number of them in outdoor displays.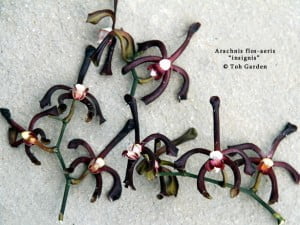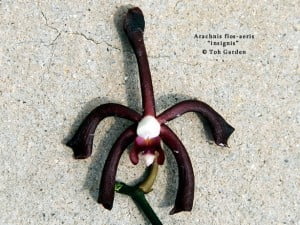 Last month, the Arachnis flos-aeris that we've bought over from Mandai Orchid Garden has finally flowered. This black orchid is rare these days, and currently its the only black Arachnis (spider) orchid. We've were blessed with two long sprays around 80cm to 90cm, with multiple side branching flowers, after growing it for 3 years from a cutting. Unfortunately, it was rather difficult to photograph the sprays as the plant was way too tall and the sun's incidence kept causing the photos to be overexposed. In the end, I have to snap the spray with my phone instead and also cut it down to take proper photos.
We did about 10 different crossings with this orchid, hoping that it will produce something special in years to come.
Another interesting orchid that we have flowering recently are hybrids of the Neofinetia falcata. We often call Neofinetia "The Orchid with a Tail" as they carry a long tail behind their flowers. Just found out that its also called the "Samurai Orchid". The tail is rather dominant and reproduced in hybridization done using the Neofinetia. Currently, we only carry the white, greenish, orange and purple hybrids.
Wishing Singapore and Singaporeans a Happy 49th National Day. 🙂