The cool weather early May brought about a good season for Vandas and Mokaras orchids in time for Mother's Day this year. Below are some of our local terete Vandas that are in bloom. Terete Vandas are one of the easiest orchids to grow in Singapore if you have a garden. These orchids loves the sun and blooms throughout the year. The more sunlight that they receives, the better the orchids flower.
In the past, many different kinds of terete Vandas are commonly grown by hobbyist and collectors when many housing still have small private garden or backyard. Many of these heritage Vandas are still prized collections today due to their prolific nature and ease of cultivation in Singapore.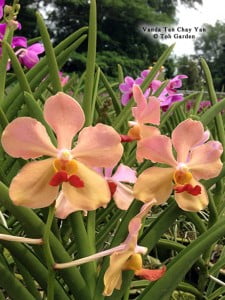 Just 3 years ago, Toh Garden cultivated 1,300 Vanda Tan Chay Yan for Orchid Society of Southeast Asia (OSSEA) and the Singapore Gardening Society to promote this heritage hybrid. Today, you can still see some of these living heritage being displayed at the National Orchid Garden's heritage display as well as at the base of some of the super-trees at Gardens by the Bay.
Vanda Tan Chay is one of the oldest heritage orchid of Singapore that won a First Class Certificate by the Royal Horticultural Society in the 2nd World Orchid Conference, in Hawaii. Bred by Mr Tan Hoon Siang who named it after his father, Mr Tan Chay Yan. Mr Tan Chay Yan is the grandson of Tan Tock Seng, an influential Chinese merchant and philanthropist in the early days. Tan Tock Seng Hospital is still present as one of the well known hospital to locals today.
Aside from terete Vandas, we also a good stock of strap leaf Vandas in bloom. Strap leaf Vandas has broader leaves and requires around 50% shade to prevent leaf scotch. Strap leaf Vandas are more cultivated in Thailand than in Singapore. Strap leaf Vandas can be grown by hanging with its roots dangling down. As compared to terete Vandas, some strap leaf Vandas may be harder to flower here in our tropical climate. And some that originate from more temperate region may produce smaller flowers here in our tropical weather.
To all mothers out there, we wish you a Happy Mother's Day. 🙂
Below are more pictures of Arandas, Ascoarachnis, Ascocendas, Mokaras, Renanstylis and other orchids in bloom.
And yes, adding these as well since we've a few inquiries on fresh orchid bouquets. Toh Garden harvest and supply fresh orchids and bouquets from our farm daily. Kindly note that fresh orchid bouquets are pre-order items as time is required to harvest orchids fresh from our farm and to arrange them for you.
These will be updated to our giftshop. =)