Looking to add a little pizzazz to Christmas this year?
Take a peek into our orchid collection (with some specials!) to prepare a unique & magical White Christmas atmosphere this year:
Dendrobium White
The Classics. The Dendrobium White orchid exihibits a pure white, while the Dendrobium Shavin White orchid adds a tinge of green tint to an otherwise basic white. These free flowering plants are great all rounders for home/backyard, generally preferring a semi shaded environment to produce the most beautiful orchid blooms.
Papilionanda Lannec Liver Pathology Society
The Papilionanda orchid named after the acclaimed Lannec Liver Pathology Society. An elegant flower with great color contrast, and a beautiful flower for a White Christmas feature.
Papilionanda Esther Araneta Pure White
The Papilionanda Esther Araneta Pure White orchid has large white flowers with beautiful rounded petals. The Papilionanda Esther Araneta Pure White orchid is much loved by white flower collectors, and available only in very limited quantities now.
Phalaenopsis Sogo Yukidien White
The Phalaenopsis Sogo Yukidien orchid have luxurious, full petals and are a favourite for indoor displays. Greet and impress your guests with these luxurious displays.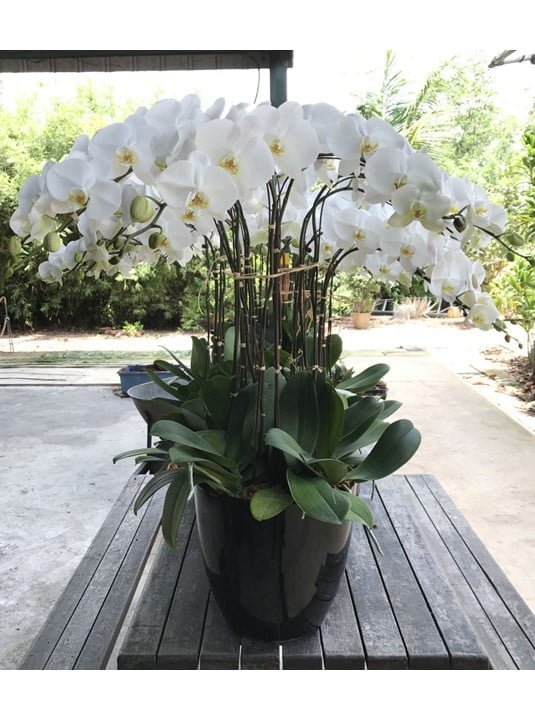 Of course, if you are looking to spice up your Christmas with some colors, we have a wide selection of orchids ( Instagram: TohGarden ; non-exhaustive!) that will make your Christmas setting that much more vibrant. The below Papilionanda orchid is one such orchid that can turn any atmosphere into one that is lively and warm.
We also have a selection of our Good ol' Christmas favorites as below, Dendrobium Snow White with Dischidia
Light up your homes like a Christmas tree with our Phalaenopsis Mix Pot
(Mix Seasonal Colour)
If you are looking to bring joy to everyone this Christmas, you are welcomed to visit our farm!
Our farm is open for visits during the Mon – Sat (9 am – 6 pm) & Sun (9 am – 3 pm), including public holidays. Administration office is open from Mon – Fri (8am – 5pm), excluding public holidays.
We wish everyone a Merry Christmas, and a Happy New Year!